Activation Energy
Home -> ChE Learning Resources -> Solved Problems -> Chemical Reaction Engineering->
---
The decomposition of NO2 follows a second order rate equation. Data at different temperatures are as follows:
T (K)		592	603	627	651.5	656
k (cm3/gmol.sec)  522	755	1700	4020	5030
Compute the energy of activation Energy from the data. The reaction is 2NO2 → 2NO + O2
Calculations:
Activation energy is found from the Arrhenius' relation
k = ko e-E/RT
i.e.,
ln k vs. 1/T is a straight line with a slope of -E/R
where, E is the activation energy; and
R is the universal gas constant.
| | | | | | |
| --- | --- | --- | --- | --- | --- |
| T (K) | 592 | 603 | 627 | 651.5 | 656 |
| k (cm3/gmol.sec) | 522 | 755 | 1700 | 4020 | 5030 |
| 1/T (oK-1) | 0.001689 | 0.001658 | 0.001595 | 0.001535 | 0.001524 |
| ln k | 6.257668 | 6.626718 | 7.438384 | 8.299037 | 8.523175 |
From the above data, the following graph is drawn, and the slope is = -13622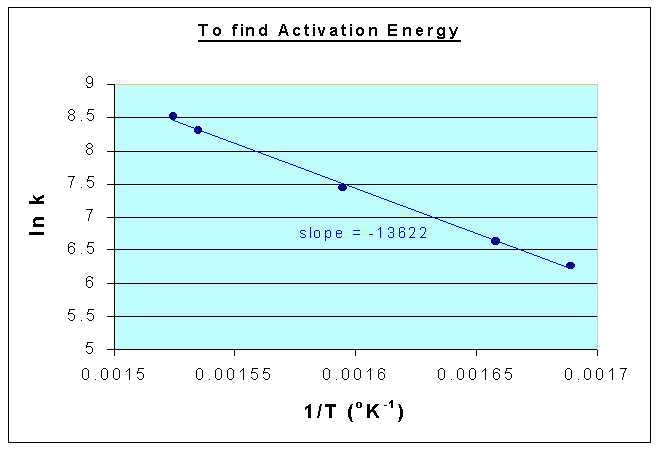 Therefore,

E/R = 13622

E

= 13622 x 8314 = 113253.3 kJ/kmol
---
[Index] [Learn More from Our Online Course...]
---
---
Last Modified on: 04-Feb-2022
Chemical Engineering Learning Resources - msubbu
e-mail: learn[AT]msubbu.academy
www.msubbu.in